Anastacia (born Anastacia Lyn Newkirk on September 17, 1973)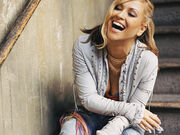 is a multi-platinum and Italian Grammy Award Winner American singer and songwriter. Anastacia has been highly successful in Europe, Latin America, Oceania, Asia, South Africa and Australia but has not had as much success in her native United States. Despite the lack of American success, she has sold over 46 million records worldwide.
Anastacia is best known in Nation Song Contest for her victory in Nation Song Contest 11 when she represented Spila with Left Outside Alone. Later she was an few national finals, but didn't win any although she represented Scorpionia in Nation Song Contest 24. Unfortunately she failed to qualify from semi finals. Anastacia is today extremely popular in in former country Astique.
NSC winners
1 Belén Arjona · 2

Natasha Bedingfield

· 3 Tata Young · 4

Youssou N'Dour

&

Neneh Cherry

· 5

Lana

&

Luka

· 6

Velvet

· 7

Vanessa Amorosi

· 8 Kelly Clarkson · 9

Evanescence

· 10

Mecano

· 11 Anastacia · 12

Mylène Farmer

· 13

Maroon 5

· 14

Crystal

· 15

Sertab Erener

· 16

Bhangra

· 17

Cascada

· 18

Loona

· 19

Globus

· 20

Nami Tamaki

· 21

Da Buzz

· 22

Cobra Starship

· 23

Crazy Loop

· 24

Benassi Bros

· 25

Siddharta

· 26

Kate Voegele

· 27

Amy MacDonald

· 28

Mega Mindy

· 29

Lara Fabian

· 30

Jenifer

· 31

Polarkreis18

· 32

Lauri Tähkä

· 33

Laura Pausini

· 34 Kelly Clarkson · 35

Sash!

ft.

Stunt

· 36

Keane

· 37

Goldfrapp

· 38

Freemasons

ft. Sophie Ellis-Bextor · 39

Jennifer Lopez

· 40

Armin van Buuren

ft. Sharon den Adel · 41

Lily Allen

· 42

Space Cowboy

· 43

Vanilla Ninja

· 44 Ani Lorak · 45 Lady Gaga · 46

Brown Eyed Girls

· 47 Within Temptation · 48 Muse · 49

Cheryl Cole

· 50

Hot Chelle Rae

· 51

Eric Saade

· 52

Katie Melua

· 53

K'naan ft. David Bisbal

· 54

Peter Luts

· 55

Monrose

· 56

Christina Rus

· 57

BoA

· 58

Christina Perri

· 59

Lenka

· 60

Magazin

· 61

Nicole Scherzinger

· 62

Caro Emerald

· 63

Ingrid Michaelson

· 64

Brandi Carlile

· 65

Nolwenn Leroy

· 66

The Naked And Famous

· 67

Nathalie Giannitrapani

· 68

Super Czerny

· 69

Adele

· 70

Philter

· 71

Edward Sharpe & The Magnetic Zeroes