Population: 10 mln.
Language: Bulgarian
Currency: Euro
Capital: Terazed ( 2,5 mln)
The other big cities are:Star (1 mln.),Neutron ( 800 000), Black Hole (600 000) Best place: 3rd - NSC 2
Flag: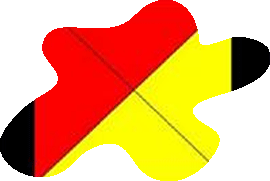 Andromeda was one of the earlieast countries in NSC. It took part between NSC 2 and NSC 7. It later returned for the editions between NSC 11 and NSC 13. After withdrawing, it tried to make a comeback in NSC 30. It, however, had to fase the long wait of being a Waiting-list country. After some editions of not voting, it was erased and didn't manage to reappear in NSC back then.
In NSC
[
]
| | | | | | | |
| --- | --- | --- | --- | --- | --- | --- |
| Edition: | Song: | Singer: | Place (SF): | Points (SF): | Place (F): | Points (F): |
| NSC 2 | Karma | Gergana | No semi-final | No semi-final | 3rd | 69 |
| NSC 3 | El Ritmo del Mio Cuore | Rushi Videnliev | No semi-final | No semi-final | 9th | 60 |
| NSC 4 | Viva Forever | Spice Girls | No semi-final | No semi-final | 6th | 71 |
| NSC 5 | Vsichko Vodi kum Teb | Anelia | No semi-final | No semi-final | 24th | 11 |
| NSC 6 | Mi Chico Latino | Geri Halliwell | 17th | 69 | - | - |
| NSC 7 | Monos Mou | Mixalis Xatzigiannis | 23rd | 50 | - | - |
| NSC 11 | Jestoka | Nevena feat. Slavi | 27th | 29 | - | - |
| NSC 12 | Tired of Being Sorry | Enrique Iglesias | 19th | 68 | - | - |
| NSC 13 | No Latino | EliZe | 20th | 54 | - | - |