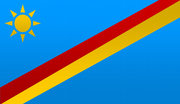 Bokia is the most southern country on the Northern Continent . Its capital city is Bokitown (it's the most southern pointt of the continent laying on the ocean).
Geography
Bokia is a coastal country. It has an exit to The Ocean, and atracts more tourists during the summer season than any other country from the Northern continent. It borders with Astoria, Reym-L-Dneurb, and Andromeda. Also, on the west side of the Northern continent looks up to Mountbatten Island, and on the east side of the ocean looks over to the west coast of Begonia.
Demographics
The population of Bokia, according to the last census, is 10.550.000 citizens.
Ethnic composition (latest census):
Bokians

- 70 %

Astorians

- 8 %

Andromedians

- 6 %

Begonians

- 3 %
others - 11 %
Bokia in the NSC
Bokia participated 5 times in the NSC, starting from NSC3. The best position to date was the 1st place in NSC5. After the NSC spinoff's were introduced Bokia also took it's participation there, and the best result to date is the 2nd place on the NSC - Eurovision Special1 ! Bok TV is the broadcaster of the Contest in Bokia.
| Edition | Artist | Song | YT Video | Rank | Points |
| --- | --- | --- | --- | --- | --- |
| NSC 3 | Elena Risteska | Milioner | YT Link | 17th | 25 |
| NSC 4 | Karolina & Flamingosi | Ti & Ja | YT Link | 4th | 76 |
| NSC 5 | Lana & Luka | Prava Ljubav | YT Link | 1st | 181 |
| NSC 6 | Toše Proeski | Cija Si | YT Link | 7th | 112 |
| NSC 7 | Maria Ilieva | On My Own | YT Link | 5th | 114 |
| NSC 8 | Miyatta | Veruvam Vo Sebe | YT Link | TBA | TBA |
| NSC-ESC | Antique | Die For You | YT Link | 2nd | 99 |
| NSC-ESC 2 | Karolina | Od Nas Zavisi | YT Link | 13th | 52 |
| NSC-NF | Severina | Daj Mi Daj | YT Link | 17th | 49 |
| NSC-Idol | Katherine McPhee | My Destiny | YT Link | 1st | 88 |