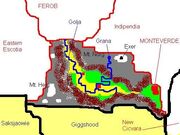 Continentia is one of the 6 states of Spila.
Geography
Edit
Conrinentia lays in the South of Spila. It borders the countries of Saskjaowie and Giggshood. It borders the Spilian states of Eastern Escotia, Former Escotian Republic Of Bedingfieldia, New Cicvara and Indipendia.
The capital is Monteverde. It lays on the border between Continentia and Indipendia, and belongs to the Monteverde - Townston urban area. Other important cities are:

The biggest mountains are Hejg and Norg. They cover cca. 75% of the state. The highest peak, Exer (2090 m), is situated on Mt. Norg.
Continentia's biggest river is Golja. It originates under Mt. Hejg and flows into the Manama Lake in Bedingfieldia. It's main tributary is Grana. It originates on Mt. Norg.
Continentia was an independent country for many centuries. The inhabitants lived mainly in the mountain area, where they held horses and worked on fields. In the meantime, the neighboring country Spila (then constituted solely of Capitalia and Indipendia) became a well-known trading paradise and one of the economic most-stabile countries in the region. That's why many Continentians emigrated to Spila. The country became poorer and poorer, while Spila kept on strengthening. Finally, the Government of Continentia decided to unite the country with Spila. The other side accepted it and the official uniting of the two states was on 24. June 1843. Continentian people were shown as great and brave warriors in the wars over Eastern Escotia.
Community content is available under
CC-BY-SA
unless otherwise noted.