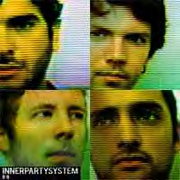 InnerPartySystem (abbr. IPS) are an American rock-electronica band.
InnerPartySystem represented Cydoni-Gibberia at the 24th Nation Song Contest, held in Maccha-Brugia, with their debut single, "Don't Stop". They came 20th in the semi-final, but came 4th in the Rest Jury, the highest non-qualifiers, and progressed to the final, where they finished 18th overall with 96 points, including 4 sets of douze points from Yaponesia, Halito, Ugaly and Maccha-Brugia, a feat for Cydoni-Gibberia that only Uniting Nations managed to beat.
InnerPartySystem were chosen by CyGiTV to fly the Cydu flag in Noizeland for the 29th Nation Song Contest on October 13th 2008. They were be the first band to represent the nation twice. They entered the competition with their second single, "Die Tonight, Live Forever" in the second semi final, but once again finished 5th-last. Unfirtunately, they were not supported in the Reju this time and they did not qualify to the final, ending 22nd with 32 points.
InnerPartySystem stated to CyGiTV after the event in Noizeland that "We love coming to the Nation Song Contest but we think we'll let other acts have a shot at glory for Cydoni-Gibberia". When asked about the chance of ever returning they said "Probably not in a long time but never say never, if we're asked again we'll have to think about it."
InnerPartySystem have currently released two singles, their NSC entries, and both went to the top of the Cydu chart.
| Single | CGB |
| --- | --- |
| Don't Stop | 1 |
| Die Tonight, Live Forever | 1 |
Community content is available under
CC-BY-SA
unless otherwise noted.