In the evening of 15th of December 2007, Maccha-Brugia threatened to declare war to Arjastan if they weren't willing to give a part of their territory to Maccha-Brugia. Arjastan decide to decline that demand, so the war had begun.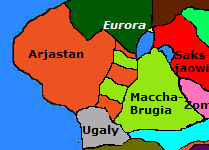 The original situation
Edit
Maccha-Brugia was one of the oldest nations in the NSC. Their population grew rapidly since NSC 3, so rapid that the population density was 4391 people/km². The situation was unbearable; people had been complaining about it for editions. Tomstria (one of Arjastan's neighbours) had just withdrawn from the Nation Song Contest, so that territory came up for grabs. Arjastan was the first to invade into the former Republic of Tomstria, so Arjastan had almost doubled in size. When the president of Maccha-Brugia realized that Arjastan had doubled in size, she didn't hesitate long to instruct the secretary of defence to plan a series of attacks on Arjastan.
Within hours of the war declaration, several nations (amongst them were Tir an Abhainn and Comino) stated their neutrality. Other nations got anxious, and afraid that they were going to get caught in the crossfire, but the Maccha-Brugian president gave her word that no other nations would get hurt in this war. Maccha-Brugia contacted Fearnavigatr, an Ugly citizen who had high status in both Arjastan and Maccha-Brugia, to act as neutral referee. He immediatly draw out a plan of how this war could come as quickly as possible to an end: the plan was to have a 3-day during war: on each day a duel with songs would be held.
On the first day, Arjastan sent Saving Jane (with the song Girl Next Door) into the battlefield. Maccha-Brugia chose to send the war-song 'Glamorous', brought by Natalia & En vogue.

The first duel in the Maccha-Arjan war.
Arjastan planned a surprise attack, but a Spilian snitch told the Maccha-Brugians where the Arjans were going to strike, so the attack didn't go as planned. On the second day, Maccha-Brugia chose 'Purify' (by Lacuna Coil), and Arjastan chose 'Never Again', by Milk Inc.

The second duel in the Maccha-Arjan war.
For the final day, Maccha-Brugia promised to perform their most lethal attack ever: they chose to send 'Bailando', an uptempo song performed by Paradisio. Because it was up-tempo, the Maccha-Brugian soldiers moved twice as fast as usual. Arjastan chose to send 'Concrete Angel'.

The third duel in the Maccha-Arjan war.
Consequences
Edit
coming soon
Community content is available under
CC-BY-SA
unless otherwise noted.