Nation Song Contest 10
Semifinal Date
25th August 2007
Final Date
01st September 2007
Host broadcaster
Venue
Scepensteht, Alinta
Winning song
"Hijo de la Luna" - Mecano
Voting system
Each country awards 1-8, 10, and 12 points to their 10 favorite songs.
Number of countries
42
Debuting countries
Halito, Luniana, Lyapunovia, Prasia, Streets ET, Swelatie
Returning countries
Adamsburg, Blondania, Calypso, Liturestia
Withdrawing countries
Rotterdamus, Unicorn Land of Geysers, Yaponesia
Null points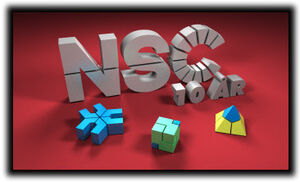 NSC 10 is noteable for introducing the Microstate Qualification round for the first time. Read more at Microstate Qualification for NSC 10.
Semi Final
Edit
Participants in the semifinal
Edit
Semifinal Recap (from Lurkovision)
Participants in the final
Edit
Voting Order
Edit
Lyaponovia
Swelatie
Noizeland
Arjastan
Giggshood
Halito
Medina
Instir
Comino
Phinechenzda
Romeria
Bokia
Ugaly
Calypso
Alinta
Blondania
Mountbatten Island
Letoh Oikot
Vorhota
Effiland
Tomstria
Spila
Escotia
Saksjaowie
Prasia
Adamsburg
Saint Joe & Southgulfia
Xorientia
RLD
Astoria
Maccha-Brugia
Begonia
Lolee
Belvist
Hibernia
Luniana
Shamitri
Mooseland
Altharia
Gabriel
Streets ET
Liturestia
Winning song
Edit
Astoria Mecano - Hijo De La Luna
Community content is available under
CC-BY-SA
unless otherwise noted.