Nation Song Contest 49
"Basics FTW"
Date
19 February - 19 March 2010
Host
Belvist
Ecclestonia
Venue
Centar Milenijum, Belvist (Semi 1)
Kulturni Centar, Belvist (Semi 2)
Gallifrey, Ecclestonia (Final)
Winner
Bokia - Cheryl Cole - Parachute
Voting system
Each country awards 1-8, 10, and 12 points to their 10 favourite songs.
Entries
44
Debuting nations
None
Returning nations
Sillycone Valley
Withdrawing nations
Balearica Island
Begonia
Celeja
Doklea
Kuki-Q
Lafronia
Mylenium Islands
Mysticland
Saint Joe & Southgulfia
Scorpionia
United Islands
Vedatistan
Zechonia
Nul points
None
Confirmation
19 February, 2010 - 26 February, 2010
Semifinal voting
27 February, 2010 - 6 March, 2010
Semifinal results
7 March, 2010
Final voting
11 March, 2010 - 18 March, 2010
Final results
19 March, 2010
Nation Song Contest
◄ NSC 48        NSC 50 ►
Nation Song Contest 49 was the 49th edition of the Nation Song Contest and was hosted by both the winner of the previous edition, Ecclestonia, and the 3rd placer from NSC 48, Belvist. The winner was Bokia, who led for most of the voting. The contest was the smallest since the introduction of dual semifinals, with Begonia, Doklea, Kuki-Q, Lafronia, Mylenium Islands, Mysticland, Saint Joe & Southgulfia, United Islands and Zechonia all failing to qualify in the previous edition, and then failing to vote in the final, resulting in disqualification in this edition. In addition, Balearica Island, Celeja, Scorpionia and Vedatistan took a break from the contest this edition. Aleksandrija, Gematria, Nightwishia and Swelatie also sent their last entries this edition.
Semi-Final 1
Edit
* - tie broken due to qualification rules
Semi-Final 2
Edit
Controversy
Edit
The 7th place in the final was contested between Alinta and Zoidiac, due to some ambiguity in the tie-breaking of the Waiting List Jury's votes. The tie, between Fervorosia, Alinta and Yaponesia was unsolvable by usual means, due to it being numerically completely equal (a single 12-pointer each).
Several solutions had been discussed in the past, though never completely agreed on. Thus, in the case of NSC 49, the votes-collector (Barish, of Effiland) was not informed on how to resolve such a tie. As a result, the tie was broken randomly by scorewiz (in this case, alphabetically).
The previously discussed solutions were
Break the tie by the WL-collector's preference
Break the tie statistically by final rank prior to the WL votes being added. (observed in NSC 47)
The results would differ depending on the method:
Random (Alphabetical) Method
Preference Method
Statistical Method
As 7th place was due to prequalify in NSC 50 and this debate was unsolved, both Alinta and Zoidiac were granted prequalification. The solution for unsolvable ties was eventually in agreement with the "Statistical Method".
Winning Song
Edit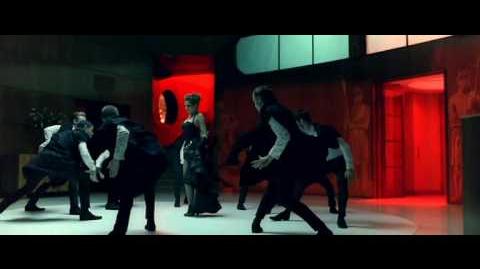 Community content is available under
CC-BY-SA
unless otherwise noted.