Rumia
Member station
Rhum Barbancourt
Appearances
Appearances
113
Debut
NSC 55
Best result
1st
Worst result
25th (semi)
Rumia is a country in Galea, that has participated in NSC continuously since 55th edition.
Geography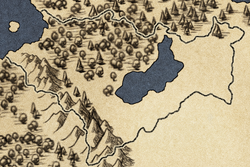 Rumia is located in central Galea, a region in northwest of Norigin, known for vast woodlands, low urbanization and low year round temperatures. The country stretches from the Udralicis Bay in the west to the INK desert in the east. Most of it is a heavily forested lowland plain, from the sea to the Ilex Lake, which separates it from the dry eastern end of the country. To the southwest, a mountain range forms a natural border.
Cities are found mostly on the coast, but other than that, the population is evenly spread across the country. Small, isolated settlements dot the landscape of inland areas.
Climate
The climate is humid temperate in the west, but changes to extremely dry on the eastern side of the Ilex Lake (called "Lake of Fire" by the locals). The air temperature above the water is permanently warmer than above the land, which prevents the normal cycle of humid and dry air masses to occur. As a result, the warm humid air stays above water and precipitation doesn't extend east of the lake.
Volcanic activity under the surface of Ilex Lake moderates the overall climate of Rumia, making it warmer and its winters significantly milder than the harsh conditions found in northern Galea.
Regions and cities
Kameń
Kameń is Rumia's largest city, the capital and the first place most visitors see. It's located at the coast, where it serves as a major port and trading hub. If you're sailing there and from the distance you see something that looks like a giant pile of brushwood, it means you're close. Although Kameń's name comes from an old word for stone, the entire city is made of wood. Built in a typical Rumian fashion, it is a chaotic maze of tall wooden houses, narrow streets and thousands of footbridges that extend far above the street level. Many businesses are located along those footbridges, which greatly confuses newcomers. Maps prove useless when you stand directly under your destination but to get there you still need to get through a labyrinth of staircases and bridges. Kameń is also home to countless pubs and the most famous ones favor locations at the top floors, where, apart from excellent local drink, they offer scenic views on the city and its surroundings.
West Galean Forests
The forest is Rumia's heartland and covers most of the area from the sea to the Ilex lake It is home to majority of country's population and is a basis of its economy. It's an ancient mixed broadleaf/conifer forest, most recognizable by giant trees dating thousands of years. Nowadays, after centuries of human settlement, those iconic giant trees stand next to areas of younger trees, used extensively in Rumia's large lumber industry.
INK Desert
On the eastern edge of Rumia and extending further southeast, lies the infamous INK Desert. It's a mostly flat, rocky desert that was briefly populated en masse during a gold rush two centuries ago. Remaining inhabitants live in half-deserted shantytowns or travel in nomadic groups. Although the desert may seem empty at first glance, it offers distinct culture and entertainment. Deadly car races are a treat for adrenaline junkies. Battle royale fights are invariably popular and most places organize small fights at least once a week. The largest annual events can involve dozens of fighters, span over several days and many kilometers of battle area. Every year hosts invent new challenges for the combatants and incorporate elements from various shows, such as The Amazing Race.

History
First traces of human residence in Rumia date two centuries after settlement of northern Galea. However, it is speculated that maritime colonizers of today's Vylkuzeme, Blackmere and Trollheimr had set their foot on the coast of today's Rumia on their way north. But first permanent settlers are thought to be pirates, who'd set up colonies along the coast - the bay was outside the sea trade routes, but close enough to reach them quickly.
Increased demand for timber encouraged people to venture inland. By year 1000 bNSC (before NSC), they had reached west coast of Ilex Lake.
INK Desert remained uninhabited on Rumia's side (eastern and central parts of it were under control of a Papendink state of the same name) until a gold rush of year 180 bNSC. The gold supply, although sizeable, was drained over a few years by exceptionally large numbers of hopeful miners. They left behind numerous ghost towns and mining machinery. Today desert's shrinking population lives mostly on scavenging.
During 54th edition of NSC, a broadcaster and rum production company launched an initiative to join Nation Song Contest. Despite the fact there has never been country-wide political authority in Rumia, the application went smoothly. The broadcaster registered symbols commonly found in local traditions, including the yellow waves flag that is now easily recognizable around the world. One edition later, Rumia made their first appearance in NSC.
Rumia in NSC
Entries
Voting