Saint Joe & Southgulfia
Member station
Bundesmedienanstalt (BMA)
Appearances
Appearances
30
Debut
NSC 7
Best result
3rd, NSC 7
Worst result
25th (SF), NSC 35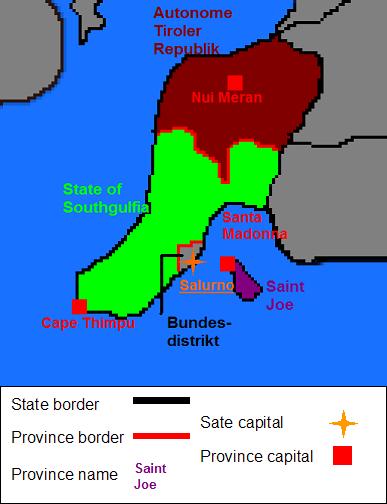 Saint Joe & Southgulfia
Saint Joe & Southgulfia is a state on the southcontinent. Its debut was NSC 7 in Spila.
Saint Joe & Southgulfia
Sankt Joe & Südgolfien
Motto
Stolz und Einigkeit
National anthem
Bozner Bergsteigermarsch
Capital city
Biggest city

Nui Meran

Languagues
Tyrolian (48 %), English (35 %), Latin (14 %), Others (3 %)
Area
83.871 km²
Population
8.353.243 (1.1.2009)
Political structure
4 provinces:


State of Southgulfia

(Cape Thimbu)


Autonome Tiroler Republik

(Nui Meran)
Saint Joe (Santa Madonna)
Bundesdistrikt (Salurno)

International vehicle registration code
SJSG
Internet TLD
.sg
First participation
Nation Song Contest 7, Spila
Points in total
902
NSC ranking
33
Flag
Main article:Flag of Saint Joe & Southgulfia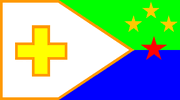 The Flag of Saint Joe & Southgulfa shows the old naval jack, which was also the flag of the province of Saint Joe on the left side.
On the right side, there is the old flag of Southgulfia. The green stripe symbolizes the fruitful country, the blue stripe the sea, the 3 small stars the provinces Saint Joe, Southgulfia and Tirol and the big star the Bundesdistrikt.
Saint Joe & Southgulfia in NSC
| NSC | Host | Artist | Song | Place Semi | Points Semi | Place Final | Points Final | Comment | Languague |
| --- | --- | --- | --- | --- | --- | --- | --- | --- | --- |
| 01 | Arjastan | - | - | - | - | - | - | no participation | - |
| 02 | Arjastan | - | - | - | - | - | - | no participation | - |
| 03 | Escotia | - | - | - | - | - | - | no participation | - |
| 04 | Arjastan | - | - | - | - | - | - | no participation | - |
| 05 | Hibernia | - | - | - | - | - | - | no participation | - |
| 06 | Bokia | - | - | - | - | - | - | no participation | - |
| 07 | Spila | Maroon5 | This Love | 4 | 146 | 3 | 130 | Debut and best results ever | English |
| 08 | Gabriel | Green Day | Boulevard of Broken Dreams | - | - | 18 | 57 | - | English |
| 09 | Astoria | Santana (feat. Rob Thomas) | Smooth | 8 | 96 | 21 | 53 | - | English |
| 10 | Alinta | Eiffel 65 | I'm Blue (Da Ba Dee) | 13 | 87 | 22 | 66 | - | English |
| 11 | Mooseland | Nadine | Was wir sind | 18 | 62 | - | - | - | German |
| 12 | Spila | Nek | Laura non c'é | 12 | 91 | 15 | 85 | - | Italian |
| 13 | Vorhota | Wes | Alane | - | - | 18 | 74 | - | Niger-Congo |
| 14 | Belvist | Aerosmith | I don't wanna miss a thing | 8 | 121 | 6 | 123 | - | English |
| 15 | Arjastan | - | - | - | - | - | - | no participation | - |
| 16 | Prasia | Nickelback | How You Remind Me | 7 | 138 | 20 | 60 | -75% in Final | English |
| 17 | Giggshood | - | - | - | - | - | - | no participation | - |
| 18 | Eurora | - | - | - | - | - | - | no participation | - |
| 19 | Maccha-Brugia | - | - | - | - | - | - | no participation | - |
| 20 | Ugaly | - | - | - | - | - | - | no participation | - |
| 21 | Alinta | - | - | - | - | - | - | no participation | - |
| 22 | Noizeland | Johann Strauß jun. | Bauern Polka | 20 | 28 | - | - | - | Instrumental |
| 23 | Maccha-Brugia | - | - | - | - | - | - | no participation | - |
| 24 | Maccha-Brugia | - | - | - | - | - | - | no participation | - |
| 25 | Vorhota | Nickelback | Someday | 5 | 87 | 19 | 79 | - | English |
| 26 | Belvist | Die Ärzte | Männer sind Schweine | 19 | 42 | - | - | - | German |
| 27 | Swelatie | Sasha | I Feel Lonely | 19 | 25 | - | - | - | English |
| 28 | Prasia | Cory "Mr. Safety" Williams | Hey, Little Sparta (The Mean Kitty Song) | 8 | 73 | 16 | 105 | - | English |
| 29 | Noizeland | S Club 7 | Show Me Your Colours | 12 | 76 | - | - | - | English |
| 30 | Scorpionia | Reamonn | Supergirl | 22 | 26 | - | - | - | English |
| 31 | Shamitri | - | - | - | - | - | - | no participation | - |
| 32 | St. Lotus | Coldplay | Viva La Vida | 5 | 91 | 12 | 109 | - | English |
| 33 | Begonia | Falco | Mutter, der Mann mit dem Koks ist da | 16 | 61 | - | - | - | German |
| 34 | Vorhota | - | - | - | - | - | - | no participation | - |
| 35 | Qele | Marc Pircher (feat. DJ Ötzi) | Sieben Sünden | 25 | 25 | - | - | - | German |
| 36 | Adamsburg | Limp Bizkit | Behind Blue Eyes | 17 | 58 | - | - | - | English |
| 37 | Vorhota | Bert Kaempfert | Swingin' Safari | 23 | 11 | - | - | -75 % in Semifinal | Instrumental |
| 38 | Reym-L-Dneurb | - | - | - | - | - | - | no participation | - |
| 39 | Bokia | Gazosa | www.mi piaci tu | 23 | 35 | - | - | - | Italian |
| 40 | Canedonia | - | - | - | - | - | - | no participation | - |
| 41 | Comino | Shakira (feat. Wyclef Jean) | Hips Don't Lie | 9 | 76 | 23 | 67 | - | English/Spanish |
| 42 | Vorhota | America | A Horse With No Name | 19 | 31 | - | - | - | English |
| 43 | Vegetaria | Blink 182 | What's my age again? | 23 | 8,75 | - | - | -75 % in Semifinal | English |
| 44 | Scorpionia | - | - | - | - | - | - | No participation | - |
| 45 | Scorpionia | Sportfreunde Stiller | Ein Kompliment | 9 | 67 | 21 | 95 | - | German |
| 46 | Fervorosia | Wigald Boning | Gimme More Huhn | 21 | 49 | - | - | - | German/English |
| 47 | Reignland | - | - | - | - | - | - | No participation | - |
| 48 | Lukeland | Oasis | Stop Crying Your Heart Out | 14 | 47 | - | - | - | English |
| 49 | Belvist | - | - | - | - | - | - | No participation | - |
| 50 | Bokia | Ernst Busch | Sozialistische Weltrepublik | 20 | 43 | - | - | - | German |
| 51 | Halito | - | - | - | - | - | - | No participation | - |
| 52 | Zoidiac | Ernst Mosch | Bis bald, auf wiederseh'n | 23 | 23 | - | - | - | German |
| 53 | Zaprya | - | - | - | - | - | - | No participation | - |
| 54 | Kostanovia | - | - | - | - | - | - | No participation | - |
| 55 | Calypso | Manu Chao | Bongo Bong (Je ne t'aime plus) | 23 | 32 | - | - | - | English/French |
| 56 | Viola per Sempre | - | - | - | - | - | - | No participation | - |
| 57 | Horehronieland/Pigeon Island | Iyaz | Solo | ? | ? | - | - | - | English |