Spila is the northernmost country on the Northern Continent and the biggest country by area in the World. Its capital city is Carine City (situated on the northernmost point of the continent).
Geography
Edit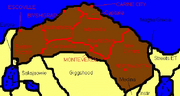 Spila is a coastal country. It has an exit to The Ocean, with coast on Spilian Bay and Gulf of Indipendia. It also has coast on the Lake Miembro. It borders Magna Grecia, Saksjaowie, Giggshood, Streets ET, Eurora, Medina, Instir and Astique.
Spila is divided in 6 states (capital cities are in brackets):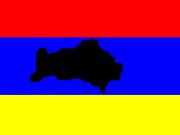 Demographics
Edit
The population of Spila, according to the 2005 census, is 22.690.000 citizens. Current estimates are somewhere around 31.000.000 (due to the enlargement of the territory).
Ethnic composition (2005 census):
The historical heart of Spila is in the states of Capitalia and Indipendia. They, and Carine City, were first mentioned in 430 BC. The name Spila is found on documents in 1500.
A couple of centuries later, the Grand Duchy Of Continentia decided to unite with Spila, mostly for economic reasons and due to many Continentians emigrating to Spila.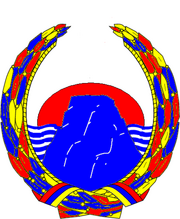 Escotia played a very big role in history of Spila. They held half of the territory of the country. But, for no particular reason, Bedingfieldia refused to stay within the Escotian borders and the UN put the state under Spilian control. The Government of Spila saw an incredible opportunity for their homeland if they could afford it an exit to Lake Miembro and other geographical riches of today's Eastern Escotia. They did it after many bloody wars. Today, Escotians are the biggest minority in Spila, and Spila is their only homeland, since Escotia became defunct.
Eastern Escotia today has one of the highest autonomy level in the 2 continents.
In 2007, with the disappearance of Maccha-Bently from the map, their territory was annexed by Spila and populated by the people from the defunct country of Cicvara. With this uniting, Spila became the largest country in the world. The former territory of Maccha-Bently is now known as New Cicvara.
Recently, two microstates were found on the territory of Spila (all of which were formerly full states): Eurora and Magna Grecia.
Spila participated in every edition of NSC, starting from NSC2. They won NSC 11. SNT is the broadcaster of the Contest in Spila.
| Edition | Song | Performer | Final Rank |
| --- | --- | --- | --- |
| NSC2 | Magija | Toše Proeski & Esma Redžepova | 15th |
| NSC3 | Ruka Za Spas | Saša Kovačević | 7th |
| NSC4 | Sve Je Isto Samo Njega Nema | Tijana Dapčević | 14th |
| NSC5 | What Goes Around... Comes Around | Justin Timberlake | 12th |
| NSC6 | Umbrella | Rihanna & Jay-Z | 2nd |
| NSC7 | Say It Right | Nelly Furtado | 2nd |
| NSC8 | Say It's Possible | Terra Naomi | 11th |
| NSC9 | Earth Intruders | Bjork | 19th |
| NSC10 | La Gitana | Flamingosi & Emina Jahović | 21st |
| NSC11 | Left Outside Alone | Anastacia | 1st |
| NSC12 | Hero | Chad Kroeger | 16th |
| NSC13 | Bože Čuvaj Ja Od Zlo | Toše Proeski | 22nd |
| NSC14 | Yugoslavia | t.A.T.u. | |