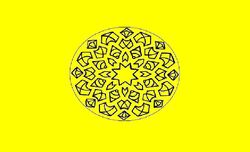 St. Lotus (often misspelled as Saint Lotus, which is not the official name) is an island and an independent state. It lies in the Lion Sea. St. Lotus competed in NSC from NSC 20 to NSC 38, with the exception of NSC 35. St. Lotus won NSC 31 and hosted NSC 32 in the country's capital city Lotos.
The flag consists of the main nation symbol, the Lotus flower, on a yellow background.
History
The island has its name because of the Lotus flowers which grow on St. Lotus and is a main fact in the economy because of many exports. The capital city Lotos is also named after the flowers. A long time the island was simply known as Lotus.
In 1935 Lotus came together with neighbor island Leonesia and was renamed in St. Lotus. The Republic of Leonesia and St. Lotus was founded.
In 2007 both islands decided to split. Leonesia's economy does very well because of the export of wind energy. Since this the islands are independent again, under their names Republic of Leonesia and Republic of St. Lotus.
Politics
The current president of St. Lotus is Johannes Ratzinger, former president of the Republic of Leonesia and St. Lotus. Anton Drollstein is Prime Minister.
Cities
The most popular city in St. Lotus is the capital city Lotos, home of national broadcaster Radio Television Lotos (RTL). Other cities on St. Lotus are Lotte, Arre, Golle or Tolotos.
St. Lotus debuted in NSC 20, passed the semi-final and went 8th in the final. This has been the best result in NSC for St. Lotus until its maiden victory in NSC 31.