Waiting List Song Contest 204
Date
4 September - 19 September 2020
Host
Tybalteva
Venue
Gatineau, Tybalteva
Winner
Tybalteva
Parle A Ta Tête by Indila
Voting system
Each nation gives 12, 10, 8-1 points to their favorite songs
Entries
20
Debuting nations
none
Returning nations
Emsfrynt
Withdrawing nations
7
Banan


Rahasia-Diati

Nul points
none
Confirmation
4 September - 10 September 2020
Final voting
12 September - 17 September 2020
Final results
19 September 2020
Nation Song Contest
◄ WLSC 203        WLSC 205 ►
For more information about the 204th contest and the actual show go to the thread.
The Waiting List Song Contest 204 was the 204th edition of the Waiting List Song Contest. The contest was held in Tybalteva in a cooperation with Kimmystan, following their victory and second place at the 203rd edition.
Seven was the first nation to announce withdrawal stating they were taking a break with hinting what would be their entry if they competed. After the confirmation period has passed, it was announced that Banan and Rahasia-Diati have withdrawn as well.
Tybalteva got their third victory, Moisantia finished second and Solentoya third. Tybaltevan victory was their second consecutive. There was a tie between Indila and Moisantia's Erika, as both had received 86 points. This necessitated a tie-breaking measure where the primary criterion is based on the number of voters each nation involved in the tie got.
Despite having won twice, it was the first time Tybalteva hosted the contest.
The event took place in Gatineau, the Tybaltevan capital, at the 25,000-seat ancient Arène des Chevaliers morts au combat (arena of the fallen knights). There was no bidding phase regarding the host city as King Archibald Aedan of Tybalteva unilateraly decided "the medieval jewel had to be put in the spotlight through an international event again".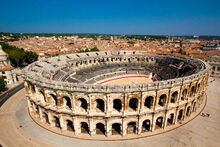 The venue was selected at the end of negotiations between TYBC 1 and the city, its central location, proximity to hotels and open-air feature being deciding factors.
The motto of the edition, "en route to the midnight sky", was unveiled on 4 September 2020. It was a nod to the WLSC 203 winning song performed by singer Miley Cyrus, as well as a strong historical reference to Tybaltevan culture. For centuries, appointed scholars have given the royal family advice based on cosmogonic, astronomical and astrological studies, hence why stars and constellations have remained meaningful symbols to Royalty and citizens alike until today.
Promotion
Edit
Not long after releasing an official statement to confirm the event, the TYBC started promoting it heavily through its various websites and channels via commercials. Several mini games on TV and on the radio, created for the occasion, offered tickets for the rehearsal shows as prizes.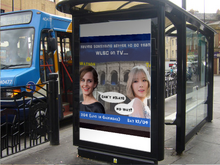 As a major tourist destination, the city of Gatineau installed giant short-lived advertising banners in the streets and set about distributing flyers via the post office network in the main cities of the country.
In a tweet written on His official account on 5 September, the King stated he would "get involved personally" in the process to draw attention to the contest.
WLSC fans also went into action through forums by organising flashmobs and posting videos of them dressing up and dancing to "Midnight Sky", using the official slogan as a hashtag on social media platforms.
Postcards
Edit
On 12 September, it was revealed that each introductory postcard merely consisted of light projections on the arena outer walls: it started with a shot of the artist walking on a path resembling a constellation and finished with a gradual display of the country's flag.
Presenters
Edit
On 7 September, Tybaltevan head of delegation Tuorem announced that two presenters would host the show: actress Emma Watson (who was one of the commentators for the King's wedding live broadcast in 2014) and artist Taeyeon, who hosted several radio shows outside her singing career.
Watson was the main host while Taeyeon divided her screen time between the arena and the green room, located in a nearby building, to interview the participants.
Opening and interval acts
Edit
The Tybaltevan broadcaster TYBC 1 did not relase any official information regarding the guest stars prior to the live shows. The opening act featured WLSC 203 winner Miley Cyrus performing her entry "Midnight Sky" with a band, followed by a short video presenting the host city Gatineau. Later on, a second video of similar format was dedicated to the arena and the Roman spectacles held there.
The interval acts included first Tybaltevan representative Melanie C, who performed "Rock Me" (with which she competed in WLSC 192), and WLSC 194 winner Lorie, who closed the show with "Ensorcelée" (that gave the nation its first victory).
Belvist opened the show while Pyreica closed it.
Moisantia and Tybalteva tied for first place; the latter was eventually declared the winner since the nation received points from a higher amount of participants (16 to 13). Tamausia & Deltannor was automatically ranked last as a result of missing the voting deadline.
| Draw | Nation | Artist | Song | Place | Points |
| --- | --- | --- | --- | --- | --- |
| 01 | Belvist | Luc Arbogast | Vox Clamantis | 04th | 67 |
| 02 | Tamausia & Deltannor | Tim Chadwick | I Need To Know | 20th | 32 |
| 03 | Roseland | The Pussycat Dolls | When I Grow Up | 07th | 58 |
| 04 | Oussou Empire | Hildegard von Blingin' | Bad Romance (Medieval Style Cover) | 13th | 49 |
| 05 | Solentoya | Nassi | La Vie Est Belle | 03rd | 83 |
| 06 | Il-Bidu | Holly Valance | Kiss Kiss | 16th | 45 |
| 07 | Utopolis | Jaloo | Last Dance | 06th | 64 |
| 08 | Tybalteva | Indila | Parle A Ta Tête | 01st | 86 |
| 09 | Szimbaya Kingdom | Hurts | All I Have To Give | 12th | 52 |
| 10 | Effiland | Erdem Kınay ft. Merve Özbey | Helal Ettim | 10th | 55 |
| 11 | Emsfrynt | SOMI | What You Waiting For | 11th | 52 |
| 12 | Arkodrë | Ricky Martin feat. Maluma | Vente Pa' Ca | 05th | 65 |
| 13 | Bigicia | Jorja Smith | Teenage Fantasy | 17th | 42 |
| 14 | Moisantia | Erika Vikman | Syntisten Pöytä | 02nd | 86 |
| 15 | New Bander State | Lida Lee feat. MONATIK | Dostoprimechatel'nost' | 19th | 24 |
| 16 | Kimmystan | BLACKPINK & Selena Gomez | Ice Cream | 18th | 36 |
| 17 | Griffin Empire | IIRIS | Stranger | 08th | 57 |
| 18 | Svobodnia | New Hope Club, Danna Paola | Know Me Too Well | 09th | 56 |
| 19 | Tanoiro | Ayumi Hamasaki | Dreamed A Dream | 14th | 47 |
| 20 | Pyreica | Raiven | Kralj Babilona | 15th | 46 |
| | | | |
| --- | --- | --- | --- |
| Kamandé | Xandria | A Theater Of Dimensions | did not compete |
Incidents
Edit
On 5 September, three explosions occurred near the Tybaltevan-Kamandéan border early in the morning. No fatalities were reported but military reinforcements were called to keep watch.
In a couple of tweets, Aedan of Tybalteva incriminated the Kamandéan government - calling the incident "provocation" - and assuaged concerns regarding the nation's ability to maintain safety while hosting the contest.
On 8 September, Kamandéan broadcaster KAOS 1 announced Xandria's "A Theater Of Dimensions" would compete in WLSC 204, which caused a sensation in the media and among Tybaltevans and Kamandéans alike. While the nation had officially been added to the provisional list of participants at the time, it was unclear whether it equalled to a confirmation.
On 11 September, following the allocation draw, Tybaltevan Prime Minister Edyta Toblerova stated on social media that Kamandé was removed from the lineup, citing "unmet safety requirements". As a result, only 20 nations (instead of 21) competed in Gatineau. The unprecedented decision sparked mixed reactions among the participating nations.
On 15 September, the TYBC announced they would face a 200,000 tybalto fine for "banning the Kamandéan entrant and thus damaging the competition's reputation" according to the international WLSC bodies.
Technical difficulty during the final show
Edit
A technical malfunction occured during the performance of Lida Lee and MONALIK from New Bander State: an alternative instrumental of their entry "Dostoprimechatel'nost'" was used and induced balance issues.
While the representatives performed until the end despite the inconvenience, the producers quickly reacted and allowed them to perform again with the correct version of the song between Griffin Empire and Svobodnia.
References
Edit
Community content is available under
CC-BY-SA
unless otherwise noted.